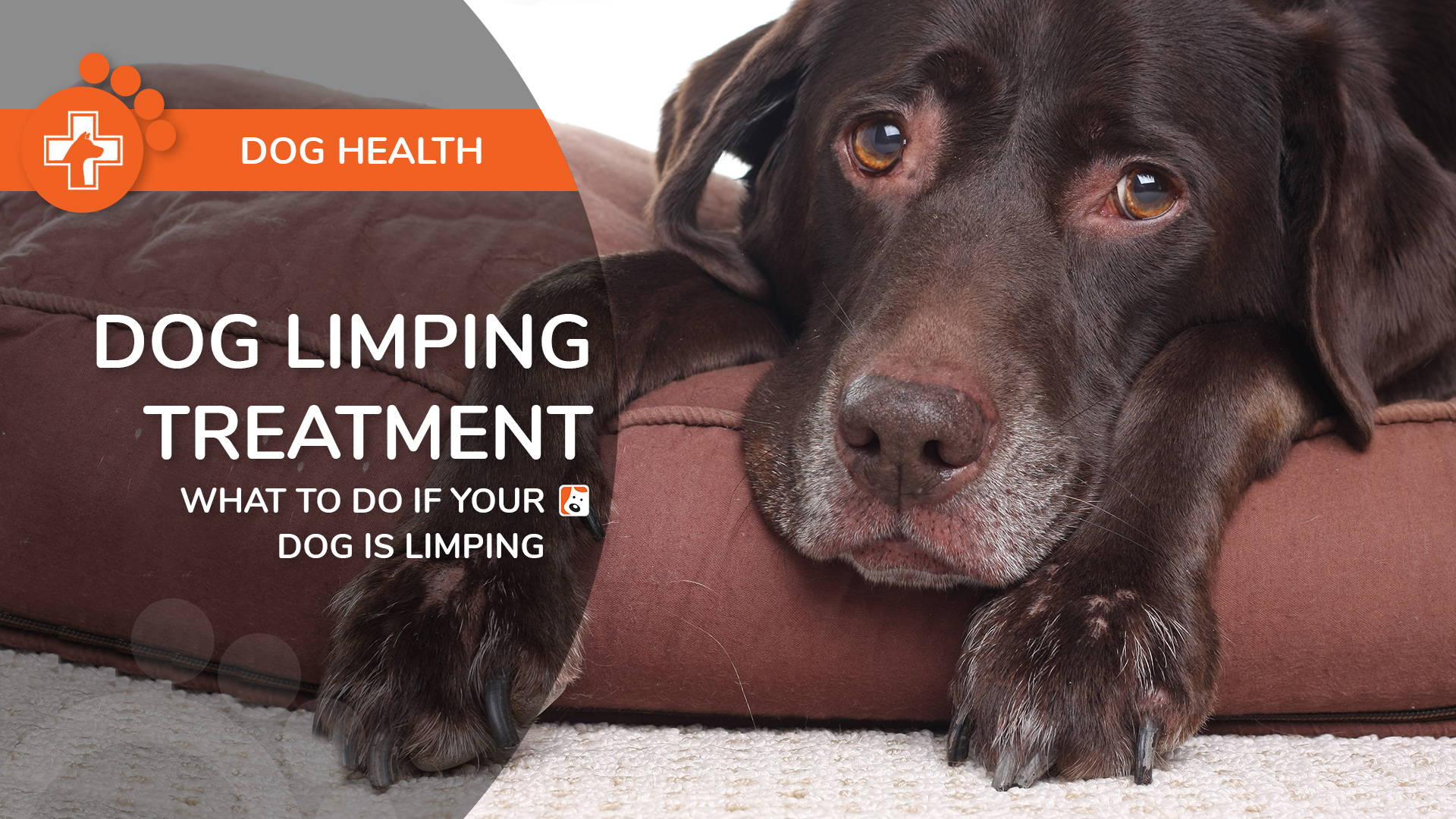 Dog limping, whether it is due to joint pain, arthritis, a broken leg, or any other cause, is a hard sight to bear. But how should you react when your furry friend starts hobbling about? Read on to learn our best tips on what to do for a limping dog.
WHY IS MY DOG LIMPING? REASONS WHY DOGS LIMP

Canine lameness (or dog limping) is usually a symptom or outcome of an underlying problem. Dog limping occurs when dogs avoid weight on an injured, painful, or abnormal limb. The severity of the joint pain associated with limping varies depending on the age, activity, and condition of the dog.
WHAT EXACTLY IS CANINE LAMENESS?

Lameness in dogs is defined as "a variance from normal gait." In layman's terms, it is also called limping or hobbling. If you notice that your dog has begun to walk with difficulty, you are likely seeing signs of lameness. For a more scientific explanation on what qualifies as canine lameness and when to visit a veterinarian, check out our blog on Lameness in Dogs.
HOW TO EXAMINE A LIMPING DOG

The first step is to determine the seriousness of the problem as lameness in dogs can range from mild to severe. The important thing to look for is whether your dog is still willing to bear any weight on the affected leg or whether he or she is refusing to bear weight on the leg altogether. Absent a very obvious injury (such as exposed bone or heavy bleeding) that requires immediate veterinary attention, you can perform an at-home examination. Dog limping can often be attributed to objects stuck in the paw and ingrown nails, so the video below will help you determine whether it is a cause like this.
DOG LIMPING TREATMENT: WAYS TO HELP A LIMPING DOG

If you have completed the home examination and ruled out anything serious that requires veterinary attention, then you are dealing with mild lameness. Mild lameness and can usually be treated at home with the following steps:
Apply Light Heat or Cold.

Apply a bag of frozen vegetables or heat pad (be careful not to burn your dog) to the joint to reduce inflammation. If the pain persists for more than 24 hours, or if you want to be proactive and rule out a chronic condition, see a veterinarian for a physical examination.
Massage for Pain Relief.

A massage can be very relaxing and soothing to a dog with inflamed joints and is thought to be a natural way to treat mild lameness. According to the

Whole Dog Journal

, use a natural arnica along with the massage for pain relief.
Avoid Carbs.

Excessive carbohydrate foods (corn, wheat, rice, soy, millet and even potato) are pro-inflammatory. Look for a high-quality dog food that uses real chicken or beef as the main ingredient. This is also better for your dog nutritionally.
Add a Supplement.

A natural bone and joint supplement like

Boneo Canine

can help your dog to maintain strong bones and healthy joints. Boneo contains a patented lactoferrin complex, which has been shown to help minimize inflammation and support skeletal strength. Check out our health section to learn more about the

benefits of lactoferrin

.
Restrict Movement/Crate.

When the limping is acute, movement for lame dogs should be restricted for a few days. Avoid having them go up and down stairs or play/run with other dogs. If you pick up your dog, put them down carefully on all fours so that they don't "land on the wrong leg". Consider having them stay in a crate (with an orthopedic mat) while you are at work or sleeping. Do not let your dog sleep on the bed, as they can attempt to jump off and injure themselves further.
Ask Your Vet about Pain Medication.

In certain cases, low doses of aspirin and other anti-inflammatories can be given to dogs. However, you should consult with your veterinarian before giving your dog any medication as they can have side effects. You can read more about medication for dogs on our

"Guide to Medication and Supplements for Dogs."

 
Never Exercise a Lame Dog.

Limping dogs must be allowed to rest completely for a few days to several weeks. When the lameness subsides, continue rest and restrictions for another 24-48 hours. Then you can reintroduce moderate exercise like controlled walks.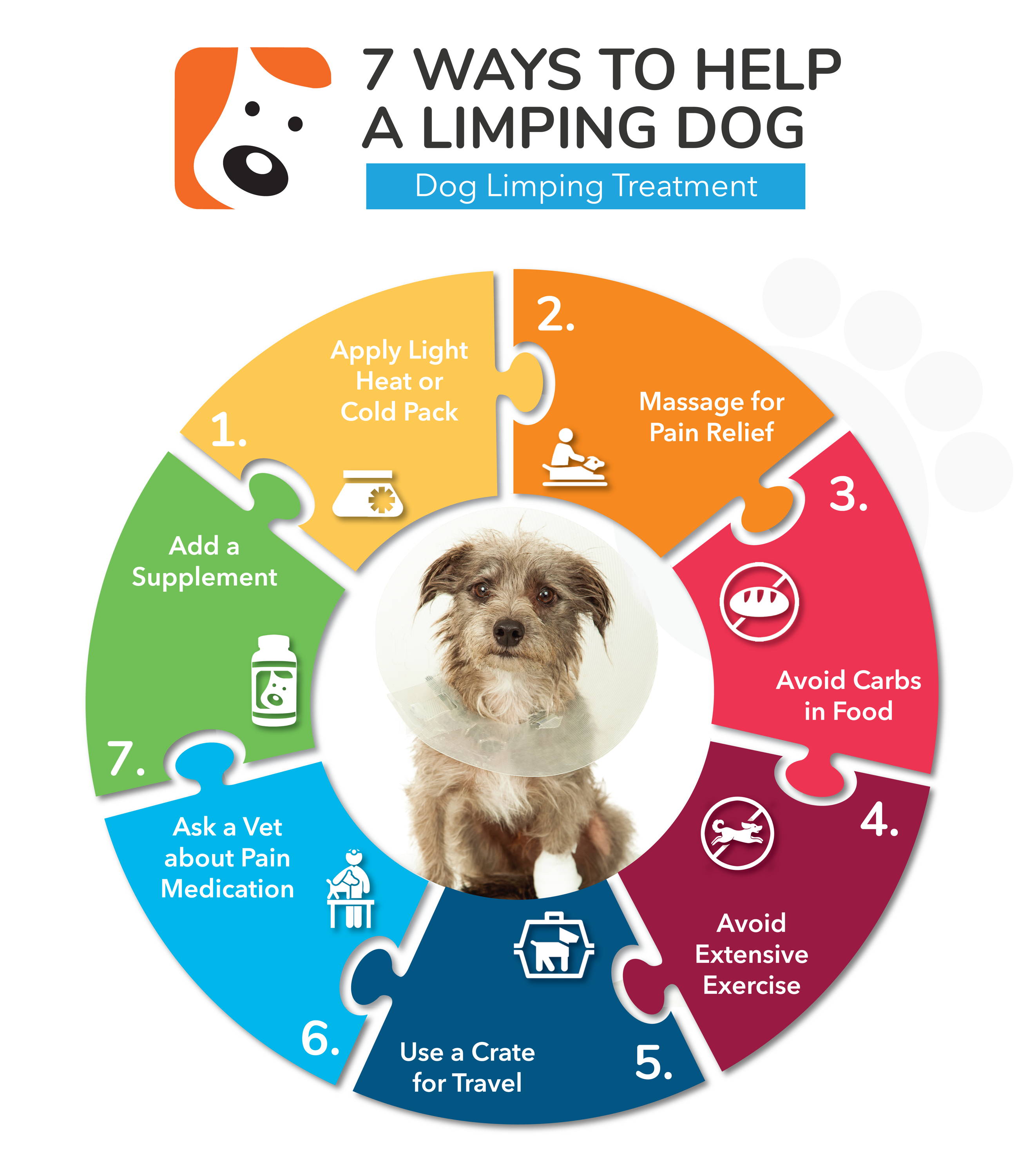 MY DOG IS SUDDENLY LIMPING OR REFUSES TO GET UP, WHAT SHOULD I DO? TREATMENT FOR SEVERE DOG LIMPING

In cases where a dog is unable to get up, walk, or appears to be in a great deal of discomfort, you are now dealing with severe lameness. Complete inability to bear weight on a limb can indicate a number of conditions, from a broken leg to a serious muscle injury or puncture wound. Joint pain that is severe can be very serious and sometimes requires surgery. In such situations, get your dog to emergency care immediately.
Note that transport to the vet can cause further complications. If the dog is large and is able to walk on 3 legs, allow him to walk to the car slowly and take him to the vet immediately. You should be careful to restrict the dog's movement by having him stay in a crate with towels lining the crate, or by having someone sit with them in the back seat to ensure that they are not thrown around during turns. If the dog is small, have a passenger cradle him while you transport him to the veterinarian.
MY DOG IS LIMPING BUT NOT IN PAIN. WHAT SHOULD I DO?

Do not assume that just because your dog is not vocal or continues to move about that he or she is not in pain. Short of a structural abnormality affecting the normal range of motion, in almost all cases, a dog limps only when he or she is experiencing some sort of discomfort. If the dog appears "normal" aside from the limping, it could mean that the injury is less severe. The seven tips in the infographic above should help, but if the pain subsists visit your veterinarian.
ARE THERE ANY NATURAL OPTIONS TO KEEP MY DOG'S BONES AND JOINTS STRONG AND HEALTHY?


Absolutely! Whether or not your dog has a limp, it's a good idea to consider giving your dog a bone and joint supplement, such as Boneo Canine, which will not only help to manage inflammation, but also promote strong bones and joints.