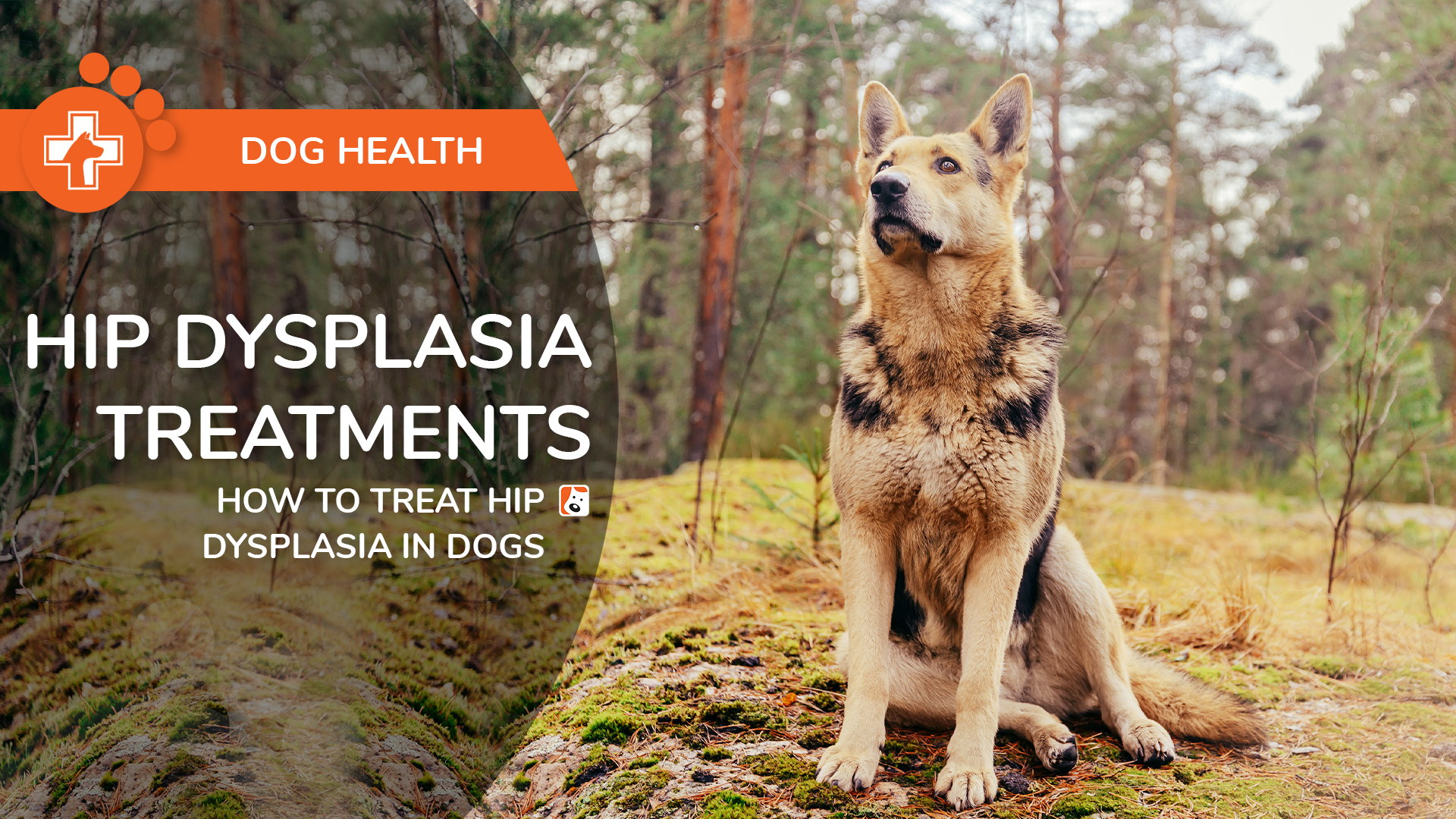 Treatment for hip dysplasia in dogs is usually through diet, exercise, or supplementation. While coping with your dog's hip dysplasia you'll find that there are treatment options out there that will fit your needs.
CAN HIP DYSPLASIA BE CURED IN DOGS?

Although there is no cure for hip dysplasia, with a healthy diet, moderate exercise, and use of supplements can help manage the pain and the progression of the disease.
TREATMENT FOR HIP DYSPLASIA IN DOGS

The right amount of exercise helps to maintain muscle tone and strength and helps to support the dysplastic joint. It also helps to improve joint range of motion, which helps keep the dog comfortable. Here some moderate exercises for dogs with hip dysplasia:
Swimming (helps keep stress and pressure of off the joints)

Short leash walks
Surgical Treatmen:
For younger dogs (under 10 months), a triple pelvic osteotomy (TPO) can be performed to reestablish joint stability and encourage normal joint development.
Home Treatment:
Keep your dog in a warm environment. This helps to control the pain of arthritis, as this worsens in cold temperature.
Provide an orthopedic bed for your dog. Orthopedic beds create additional support for your dog's spine, joints, and muscles while they rest by redistributing your dog's weight, thus relieving pressure on their joints.
Give your dog a massage. Massage the muscles around your dog's hip joints, gently rubbing in a circular motion with your finger tip for no longer than 10 minutes. Be sure to pay attention to how your dog is reacting to this, if he seems agitated, stop.
WHAT TO DO IF YOUR DOG HAS HIP DYSPLASIA

The signs of hip dysplasia should not be used to self diagnose your dog. Lameness in dogs is not always attributed to hip dysplasia and could be a number of things. Check out our blog on What To Do If Your Dog Is Limping for an overview of the top causes of canine lameness. If you suspect that your dog may have dysplasia, then you should meet with your veterinarian for a comprehensive orthopedic wellness exam.
Although some human foods are thought to be beneficial for treating hip dysplasia, there are no proven treatments to prevent the development of hip dysplasia. The best treatment for managing the symptoms associated with canine hip dysplasia is a combination of healthy diet, maintaining a normal weight, and exercise (such as swimming, which doesn't put any stress on the joints).
A bone and joint supplement like Boneo Canine® can also be a good addition to your dog's regime because it helps maintain strong bones and joints. Acupuncture and physical therapy are also great ways to make your dog feel more comfortable. For a more thorough review on ways to ease the pain, please check out Dr. Borostyankoi's interview with I Heart Dogs.

PLAN AHEAD, CONSIDER PET INSURANCE

If your dog is predisposed to develop dysplasia, or if your dog is experiencing lameness, it is important to meet with your veterinarian to discuss a complete approach to managing their bone and joint health. This may include a specialized nutrition, supplement, and exercise regimen.
It may also be worthwhile for pet owners to purchase pet insurance when their dog is a puppy (according to a general review of plans, pet insurance may pay for about 80-90% of the cost associated with vet visits). This can be especially beneficial for a dog with hip dysplasia, as the condition can result in the need for surgery, including a total hip replacement. The estimated cost of a total hip replacement in a dog can be very expensive, ranging from $5,000-8,000 per hip.
This can all seem overwhelming for some dog owners. However, by consulting your veterinarian and planning ahead, you can make sure your dog enjoys a happy and comfortable life.