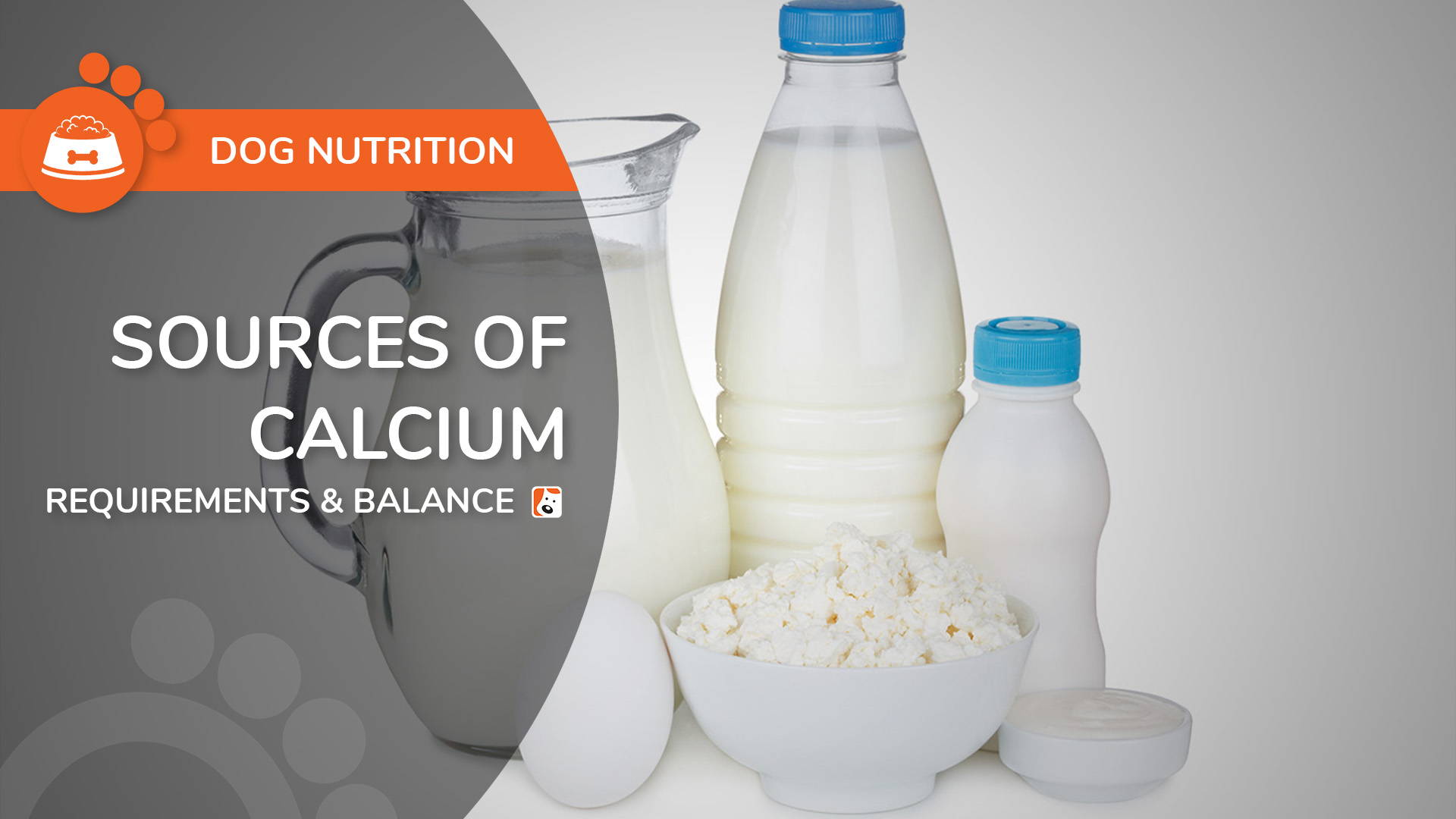 Calcium doesn't just support strong bones, it plays a vital role in bodily processes from digestion to cognitive health. Though the importance of this mineral cannot be overstated, it is very important to strike a balance. Just as a deficiency in calcium can cause problems in dogs so can excess calcium. In this blog, we will provide tips on how to ensure your dog has the right balance of calcium in their diet.
CALCIUM REQUIREMENTS FOR DOGS - HOW MUCH CALCIUM DOES MY DOG NEED?

Calcium requirements for dogs are dependent on factors such as breed, age, genetics and condition. This is why you should consult closely with your veterinarian to ensure that your dog's diet (which is its only source for calcium) is nutritionally balanced and customized for the specific needs of your dog. There are general guidelines that have been given by the National Research Council (NRC), a division of the National Academy of Sciences.
According to the NRC, healthy adult dogs generally require 50 mg of calcium per kilogram of body weight. For example, a 5 kg dog (about 11 lbs.) needs 250 mg of calcium per day, a 25 kg (about 55 lbs.) dog needs 1250 mg per day, and a 50 kg (about 110 lbs.) dog needs 2500 mg per day.
The Association of Animal Feed Control Officials also publishes a list about the nutritional requirements for dogs, which serves as the guidelines for commercial foods that are sold in the US. This list can be used for additional reference in learning about the appropriate level of calcium for your dog.
Consult with your veterinarian to find out the right amount of calcium for your dog's specific needs.
CALCIUM FOR DOGS: WHERE DOES MY DOG GET CALCIUM FROM?

Because calcium is a mineral; your dog cannot produce (or synthesize) it. Instead, calcium must be orally consumed, through diet and/or supplementation in order to be replenished in the body. The following are some dietary sources of calcium for your dog:
Enriched Dog Food: Commercial dog foods in the United States, in order to be considered

complete and balanced

, need to contain recommended daily dosage of calcium for your dog. This is usually the most common source of calcium for dogs and, in healthy adult dogs, provides adequate amounts of calcium.

Bones: Bones contain calcium so bone meal is an obvious source of calcium for dogs. However, keep in mind that whole

bones can be unsafe for dogs

(especially small bones). Most veterinarians agree that bones should be processed with a blender into a fine powder and then added to the dog's food.

Whole Foods: Aside from dog kibble, there are also many whole foods that are naturally rich in calcium can be an excellent source of calcium for dogs. This includes dairy, such as yogurt and cheese; make sure that your dog is not lactose-intolerant as dairy can cause sensitivities in some dogs. Other natural sources for calcium include vegetables and legumes such as broccoli, spinach, and beans, as well as fish (tuna and salmon are especially calcium rich). You can also ground up some eggshells, as this is a natural calcium-rich food for dogs.

Calcium Supplements: Calcium supplements can also be a source of calcium to dogs, but should be taken with precaution

.
CALCIUM-RICH FOOD SOURCES FOR DOGS

One of the best ways to get calcium into your dog's diet is through whole foods. Dietary calcium is more easily absorbed and integrated through the gastrointestinal barrier. Check out our video below on Calcium-Rich Foods for Dogs.
DOES MY DOG NEED A CALCIUM SUPPLEMENT?

If you're feeding your dog a well-balanced commercial diet, it is usually unnecessary to give him any additional calcium supplementation, and in some cases, overloading a dog with calcium can even be harmful.
IF NOT A CALCIUM SUPPLEMENT, WHAT CAN I GIVE MY DOG TO SUPPORT STRONG BONES?

While calcium is necessary for strong bones, a traditional calcium supplement may not be the right answer. Instead, consider putting your dog on a bone health supplement that is tailored to provide bone support and includes proper and safe doses of calcium and other minerals. One nutrient that is very beneficial to bones is lactoferrin.
Boneo Canine is an all-natural formula that is powered by a patented lactoferrin-based technology called Neo-PORTIN Complex. Neo-PORTIN Complex promotes healthy bone turnover in dogs and helps your dog better utilize the dietary calcium when consumed through its food.

For further reading on nutrient requirements on dogs, you can check out the AAFCO website or read this great manual published by the National Research Council.
The information provided should not be a replacement for medical advice. Consult with your veterinarian to discuss calcium needs or concerns for your dog.